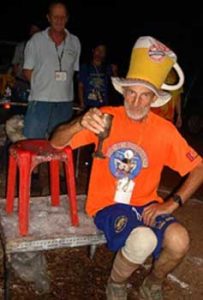 please note, Hash is canceled until further notice
           due to COVID 19 restrictions.
    so have your own virtual run 
All Hashers, with and without transport, and visitors should meet at the Nam Phu at 3:45 pm for 4:00 pm departure to the run site.
more information:   Dayaklao@gmail.com
VBH3 was formed by six members of the VH3, who decided that they would like to have a weekend run in the countryside, rather than in the suburbs of Vientiane..
The first run was held on 14th June 1998 at Peter "Oldtimer" Callum's farm and was attended by 13 Hashers. Since then numbers have grown to an average of around 15-30 and the proportion of Lao nationals has grown steadily. The VBH3 had its 1,000th anniversary run in January 2016. VBH3 attracts many visitors and its
members run regularly with other Hashes, both in the region and worldwide.
The basic format of the VBH3 is similar to that of the VH3 (and nearly all other Hashes worldwide). Members meet at the Fountain (Nam Phu) every Saturday at 3.45 pm and then leave for an out-of-town area for the run.
The main difference from the VH3 is that there is only one run and the "Circle" is held at the run site. After the Circle the Hash moves to a local restaurant for food and drinks.