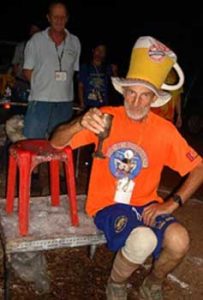 Special Farewell-celebration this Saturday 19.06.21
  VBH3 – run no. 1288
     "FUNERAL "   
Khoy DAM (Terry) 
The circle this Saturday 19# June is at the catholic cemetery- burial site on

the Rte 13N after Airport at Sikhai

at 10:00 am.!

On On On after closed ceremony we went to the German Restaurant "Berliner Garden" near PaTuXai for a Down Down ( ore two…)  for KD1 !

 at 4:00 pm. all are well come at Phouangs & James house to attend the Buddhist ceremony.
All Hashers, with and without transport, and visitors/friends should meet at the

Nam Phu at 9:00 am,

(ore at the Joma nearby)

for 9:30 pm departure

to the cemetery site.
Directions for drivers/navigators: From the Nam Phu take Samsenthai Road and follow strait the Rte 13 N, about 8 km, short after Airport Wattai  there is the catholic cemetery on the right, chalk circle should be on the road.
See the map click here  https://goo.gl/maps/zp51gipevNXPHNpj7
any questions call   Kunty  : 020 588 7 22 00
ore Contact us: bennilao335@gmail.com
ore :Dayaklao@gmail.com
VBH3 was formed by six members of the VH3, who decided that they would like to have a weekend run in the countryside, rather than in the suburbs of Vientiane..
The first run was held on 14th June 1998 at Peter "Oldtimer" Callum's farm and was attended by 13 Hashers. Since then numbers have grown to an average of around 15-30 and the proportion of Lao nationals has grown steadily. The VBH3 had its 1,000th anniversary run in January 2016. VBH3 attracts many visitors and its
members run regularly with other Hashes, both in the region and worldwide.
The basic format of the VBH3 is similar to that of the VH3 (and nearly all other Hashes worldwide). Members meet at the Fountain (Nam Phu) every Saturday at 3.45 pm and then leave for an out-of-town area for the run.
The main difference from the VH3 is that there is only one run and the "Circle" is held at the run site. After the Circle the Hash moves to a local restaurant for food and drinks.